Anna Sitz, PhD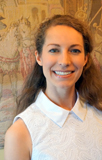 A01
UP1
Alte Geschichte

Telefon: 06221-54 3722
E-Mail: anna.sitz@uni-heidelberg.de
Anschrift
Marstallstr. 6
Raum 00.012a
69117 Heidelberg
Forschungsschwerpunkte
Archäologie der Spätantike in Kleinasien und Griechenland (4.-7.Jh.n.Chr.)
Griechische Epigraphik
Griechische und römische Heiligtümer in Kleinasien und Griechenland
Frühchristliche Kirchen
Byzantinisches Kappadokien (Türkei)
Labraunda-Ausgrabung (Türkei)
Zur Person
1988 geb. in Little Rock, AR, USA. Staatsangehörigkeit: USA
2006-2010 Studium (BA) der Klassischen Philologie und Kunstgeschichte an der Baylor University (Texas, USA)
2010-2012 Master's Degree (MA) an der University of Pennsylvania, Art and Archaeology of the Mediterranean World Program. Titel der Masterarbeit: "ΜΕΓΑΣ ΦΟΒΟΣ: The Role of Reverential Fear in the Pancarlık Kilise in Cappadocia."
2013-2017 Promotionsstudium an der University of Pennsylvania, Art and Archaeology of the Mediterranean World Program.
2014-2016 Mitglied an der American School of Classical Studies at Athens, Griechenland
2016-2017 Gastwissenschaftlerin an der Ludwig-Maximilians-Universität München, Byzantinistik und Spätantike Kunstgeschichte
2017 Promotion an der University of Pennsylvania. Titel der Dissertation: "The Writing on the Wall: Inscriptions and Memory in the Temples of Late Antique Greece and Asia Minor."
seit 2017 Leiterin des Teilprojekts Spätantike, Labraunda-Ausgrabung (Türkei)
2018 Postdoc-Fellowship (Frühlingssemester) am Harvard Center for Hellenic Studies, in Verbindung mit dem Deutschen Archäologischen Institut
seit 2018 wissenschaftliche Mitarbeiterin, seit Juli 2019 Teilprojektleiter A01 UP1, SFB 933 "Materiale Textkulturen", Universität Heidelberg
Auszeichnungen und Stipendien
2018 DAAD Short Term Grant für das Wintersemester 2018, abgelehnt
2017 President Amy Gutmann Leadership Award, UPenn
2015-2016 Phi Beta Kappa Sibley Fellowhip, Jahresstipendium in Athen
2015 Louis J. Kolb Society of Fellows, Penn Museum, gewählt als Junior Fellow
2015 Penn Museum Feldforschungsmittel, Sommer
2015 Penn Museum Colburn Fellowship, Semesterstipendium für einen Aufenthalt in Athen
2014 Council of American Overseas Research Centers (CAORC) Mediterranean Regional Fellowship, Semesterstipendium für Aufenthalte in Griechenland, der Türkei und Ägypten
2014 Penfield Dissertation Research Fellowship, UPenn
2014 Gladys Krieble Delmas Foundation Scholarship, für den Visualizing Venice Workshop in Digital Humanities
2013 Tousimis Third Prize for Graduate Student Paper, 2012 Byzantine Studies Conference (USA)
2012 Penn Museum Student Summer Research Grant für den "Contextualizing Cappadocia" Workshop (Türkei)
2011 A. G. Leventis Foundation Scholarship für die Medieval Greek Summer Session an der Gennadius Bibliothek, Athen
2010-11 Williams Fellow, University of Pennsylvania
2010 Outstanding Student, Classics Department, Baylor University

Archäologische Feldarbeit
Labraunda Ausgrabung
(Leitung: Olivier Henry. Caria, Muğla Provinz, Türkei)
2019 Teilprojektleiterin, Late Roman Cemetery excavation
2018 Teilprojektleiterin, Late Roman Cemetery excavation
2017 Teilprojektleiterin, Postclassical Olive Presses excavation near Built Tomb
2016 Teilnehmerin an der Roman East Bath excavation
2015 Assistant Supervisor in der Andron A excavation
Förderung für mein Teilprojekt:
2019 Akmed Projekt Grant
2018 Dumbarton Oaks Project Grant
2017 Kolb Society Greenewalt Project Fund
Korinthos Ausgrabung
(Leitung: Guy Sanders. Corinthia, Griechenland)
2015 Trench Co-Supervisor in der Frankish Quarter cesspit excavation
Alabanda Ausgrabung
(Leitung: Suat Ateşlier. Karien, Aydın Provinz, Türkei)
2015 Sector Supervisor, spätantike und byzantinische Befunde im temenos des Apollo-Tempels
Philosophiana Archaeological Project Field Survey
(Leitung: Kimberly Bowes, Emanuele Vaccaro, Mariaelena Ghisleni und Gioacchino Francesco La Torre. Sofiana, Sizilien)
2011 Mitglied des extra-site Survey Teams
Veröffentlichungen
'Peer-Review' Aufsätze in Zeitschriften
2019 "Beyond Spolia: A New Approach to Old Inscriptions in Late Antique Anatolia." American Journal of Archaeology 123.4: 643-674.
2019 "Hiding in Plain Sight: Epigraphic Reuse in the Temple-Church at Aphrodisias." Journal of Late Antiquity 12.1: 136-168.
2017 "'Great Fear:' Epigraphy and Orality in a Byzantine Apse in Cappadocia." Gesta 56.1: 5-26.
Aufsätze in Sammelbänden
2019 "Inscribing Caria: The Perseverance of Epigraphic Traditions in Late Antiquity." In Early Christianity in Asia Minor and Cyprus: From the Margins to the Mainstream, eds. Stephen Mitchell and Philipp Pilhofer (p. 202-225). Brill.
2020 (im Erscheinen) "Architectures of Surveillance: Houses and Stylites in the Northern Syrian 'Dead Villages.'" Accepted to Constructing Sacred Space: Architecture and Visual Culture in the Late Antique and Medieval Mediterranean, eds. Vasileios Marinis, Amy Papalexandrou, and Jordan Pickett. Brepols.
Archäologische Berichte
2019 "Tetraconchos: An Early Christian Cemetery at Labraunda," Section of preliminary excavation report for 2018 season, O. Henry et al. Anatolia Antiqua XXVII: 217-221.
2018 "Two Olive Presses near the Built Tomb at Labraunda," Section of preliminary excavation report for the 2017 season, O. Henry et.al., Anatolia Antiqua XXVI: 297-301.
2016 "Andrôn A," with O. Henry, Section of preliminary excavation report for the 2015 season, O. Hendry et.al. Anatolia Antiqua XXIV: 416-424.
Lexikonartikel
"Church," "Corpse," "Titulus," "Vatican," in the Routledge Encyclopedia of Ancient Mediterranean Religions, Eric Orlin et.al., eds. New York: Routledge.
Monographie in Vorbereitung
Pagan Inscriptions, Christian Viewers: Reading the Past on the Temples of Late Antique Asia Minor.
Aufsätze in Vorbereitung
"A Byzantine Cesspit and Ceramic Assemblage from Corinth," working title, with co-author Rossana Valente. Finds from 2015 Corinth excavation. To be submitted to Hesperia in 2020.
"Constantine 'the Greatest:' Epigraphy and the First Christian Emperor." To be submitted 2021.
Online-Berichte Open Access
Gastvorträge
2019 "Christian Graves at a Pagan Sanctuary: Recent Research on Late Antique and Byzantine Labraunda (Turkey)." Byzantinische Archäeologie Sommerkolloquium, Universität Heidelberg, July 19
2019 "Classical and Classicizing Inscriptions: Labraunda and Its Regional Context in Late Antiquity." Archäologisches Kolloquium, Universität Marburg, Marburg, June 13
2019 "Labraunda in the Early Christian Period: Recreating an Epigraphic Landscape." Archaeology Colloquium, Uppsala University, Uppsala, April 24
2018 "Reading Local History: Inscriptions on Temples from Antiquity to Late Antiquity." Hauskolloquium, Deutsches Archäologisches Institut, Berlin, July 5
2018 "Inscribing Caria: The Perseverance of Epigraphic Traditions in Late Antiquity." Topoi Workshop "The Rise of Christianity in Asia Minor and on Cyprus." Humboldt University, Berlin, June 22
2018 "Alte Inschriften, neue Religion: Gedächtnis in Tempelkirchen." Spätantike Archäologie und Byzantinische Kustgeschichte Vorträge, Ludwig-Maximilians-Universität, Munich, June 19
2018 "Sacred Space, Epigraphic Display, and the Origins of Inscribing Temples in Greece and Asia Minor." Kommission für Alte Geschichte und Epigraphik, Munich, June 6
2018 "The Problem of Periodization: Pagan Sanctuaries in Late Antiquity." Byzantine Art Workshop, Brown University, Providence, April 14
2017 "Inscriptionsin Space (and Time): Late Antique Interaction with Older Epigraphy." Invited paper, University of Pennsylvania, April 9
2015 "Fear and Trembling: Epigraph and Viewer Response in a Byzantine Church in Cappadocia." Gennadius Library, Athens, February 12
2014 "Imprinting Identity: Individualizing Cappadocian Churches through Painted Inscriptions." Invited paper at Penn Museum Symposium "From Constantinople to Cappadocia," Philadelphia, April 13
Vorträge bei Workshops und Konferenzen
2020 "Mutilation, Modification, Christianization? An Archaeological Approach to the Erasure of Inscriptions in Late Antiquity." Archaeological Institute of America (AIA) Annual Meeting, Washington, D.C., January 2-5
2019 "Archive, Autopsy, and a Material-Text Approach: The Find Spots of Inscriptions at Labraunda." Labraunda Workshop, Istanbul, May 15
2019 "Late Antique Labraunda: Spolia, 'Unspolia,' and the Sanctuary of Zeus Labraundos." Archaeological Institute of America (AIA) Annual Meeting, San Diego, January 3-6
2018 "Digging Byzantine and Frankish Trash: Material Culture from a Cesspit in Corinth (Greece)." Co-author Rossana Valente. Byzantine Studies Conference, San Antonio, October 5
2017 "Epigraphy and Oral Tradition: 'Seeing the Image' in Byzantine Cappadocia." International Congress of Greek and Latin Epigraphy, Vienna, September 1
2017 "Writing on Temples: Epigraphic Habits of the Hellenistic and Roman Periods." AIA Annual Meeting, Toronto, January 6
2016 "Viewing the Past: Christian Responses to Pagan Temple Inscriptions in Late Antiquity." Byzantine Studies Conference, Ithaca, October 7
2016 "The 'Dead Villages' of Northern Syria: Surveillance and Security at Déhès." AIA Annual Meeting, San Francisco, January 8
2014 "Late Roman Epigraphy in the Forum Romanum: Fragments or Narrative?" Classical Association of the Midwest and South (CAMWS), Waco, April 2-5
2014 "Reading the Program: A Reassessment of the Tokalı Kilise Donor Inscription." Jaharis Graduate Student Conference, Boston, February 27
2012 "From Mortuary Temple to Church: Memory and Appropriation in Upper Egypt." Byzantine Studies Conference, Boston, November 3
2011 "ΜΕΓΑΣ ΦΟΒΟΣ: The Role of Reverential Fear in a Majestas Domini Composition." Byzantine Studies Conference, Chicago, October 20
2009 "Motion and Time in Virgil's Fourth Eclogue." CAMWS, Minneapolis, April 2

Programme im Ausland
2016-2017 Exkursionen nach Kilikien, Zypern, und Pamphylien/Pisidien mit Prof. Dr. Franz Alto Bauer, Ludwig-Maximilians-Universität
2014-2016 Student associate member, American School of Classical Studies at Athens, Greece. Site visits, research, and writing dissertation
2014 Visualizing Venice Workshop for Digital Humanities at Venice International University
2012 Cappadocia in Context summer program. Through Koç University. In Istanbul and Cappadocia, Turkey.
2011 Medieval Greek Summer Program, Gennadius Library, American School of Classical Studies at Athens
2010 Summer Session, American School of Classical Studies at Athens
Sprachkenntnisse
Lesen: Altgriechisch, byzantinisches Griechisch, Lateinisch, Deutsch, Türkisch, Neugriechisch, Französisch, Italienisch, Spanisch
Sprechen: Deutsch (C1), Türkisch (A2), Neugriechisch (A1), Spanisch (A1)